I use this map at work to keep up with the latest info in the state county by county. Florida Department of Health interactive map that updates Florida case data is updated at approximately 11 a.m. and 6 p.m. daily. Click here for map. if not working in the blog.
Confirmed cases in the State of Florida for COVID19 with demographic and statistical indicators, as reported by the Florida Department of Health.
Dashboardbyrebekah.jones_FDOH
Created: Mar 12, 2020Updated: Mar 20, 2020View Count: 7,586,662
Florida Cases: The total (sum) number of Persons Under Investigation (PUI) who are Florida residents and tested positive for COVID-19 while in Florida, as well as Florida residents who tested positive or were exposed/contagious while outside of Florida. 
Deaths: The total number of Florida residents who have died with positive COVID-19 tests. Includes Florida Residents who died or were tested, infectious and/or exposed while outside of Florida. 
Monitored persons: People the Florida Department of Health was notified of for possible monitoring because they are a contact of a case, traveled from China, or were identified by the Centers for Disease Control and Prevention (CDC) as a part of an airline/ship contact investigation.
Person Under Investigation (PUI): Persons who are considered high-risk for COVID-19 due to recent travel, contact with a known case, exhibiting symptoms of COVID-19 as determined by a healthcare professional, or some combination thereof. PUI's also include people who meet laboratory testing criteria based on symptoms and exposure, as well as confirmed cases with positive test results. 
Testing Definitions:
Number of People Tested: All tests submitted or received with Florida connections, including:
Florida residents tested in Florida
Non-Florida residents tested in Florida
Florida residents tested outside of Florida
Florida Residents Tested Elsewhere: The total number of Florida residents with positive COVID-19 test results who were tested outside of Florida, and were not exposed/infectious in Florida. 
Non-Florida Residents Tested in Florida: The total number of people with positive COVID-19 test results who were tested, exposed, and/or infectious while in Florida. 
More information
Q: Why are there counties with confirmed cases that aren't shown in the map colors?
There are cases in which Florida residents were exposed, tested and isolated outside of Florida. Since they were not contagious in Florida, and the visual display is meant to show where people who have tested positive are at inside Florida, they are not included in the map. They are, however, included in the left-hand column count of total and resident cases, and you can see the details of those cases by clicking on the county on the map or in the list on the right-hand side of the dashboard.
Q: I heard more cases were announced in my county. Why aren't they shown on the map?
The reporting process for cases requires confirmation of a positive test from one of our labs or reporting facilities before the information is published by the Department of Health. To ensure we're only reporting verified data, we do not add cases to the map that are announced through Twitter, Facebook, or third parties, even hospitals, until we've checked and confirmed all of the data. Once a case is verified, it will be added to the data at the next map update, either at 11 a.m. EDT or 6:00 p.m. EDT daily. 
Q: Why do the numbers in the maps and the numbers in the charts sometimes not match?
While our data is being updated, there can be a brief delay between the display part of the map and the statistics featured on the page. The delay is caused by the sequence in how data is transferred from our servers onto the online map. This delay shouldn't last for more than few minutes, and typically happens at our regularly-scheduled update times of 11 a.m. and 6:00 p.m. EDT.
To learn more about our COVID-19 resources , visit FLHealth.gov.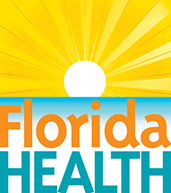 The Florida Department of Health operates a toll-free help line that you can reach 24 hours a day, 7 days a week at:  
1 (866) 779-6121
For general inquiries, please email COVID-19@FLHealth.gov
For issues or problems with the map or dashboard, contact our GIS Office at: GIS@flhealth.gov
For information about the detailed map definitions or schema, or to be added to our email list for notices about updates to our feature services, please contact  GIS@FLHealth.gov.