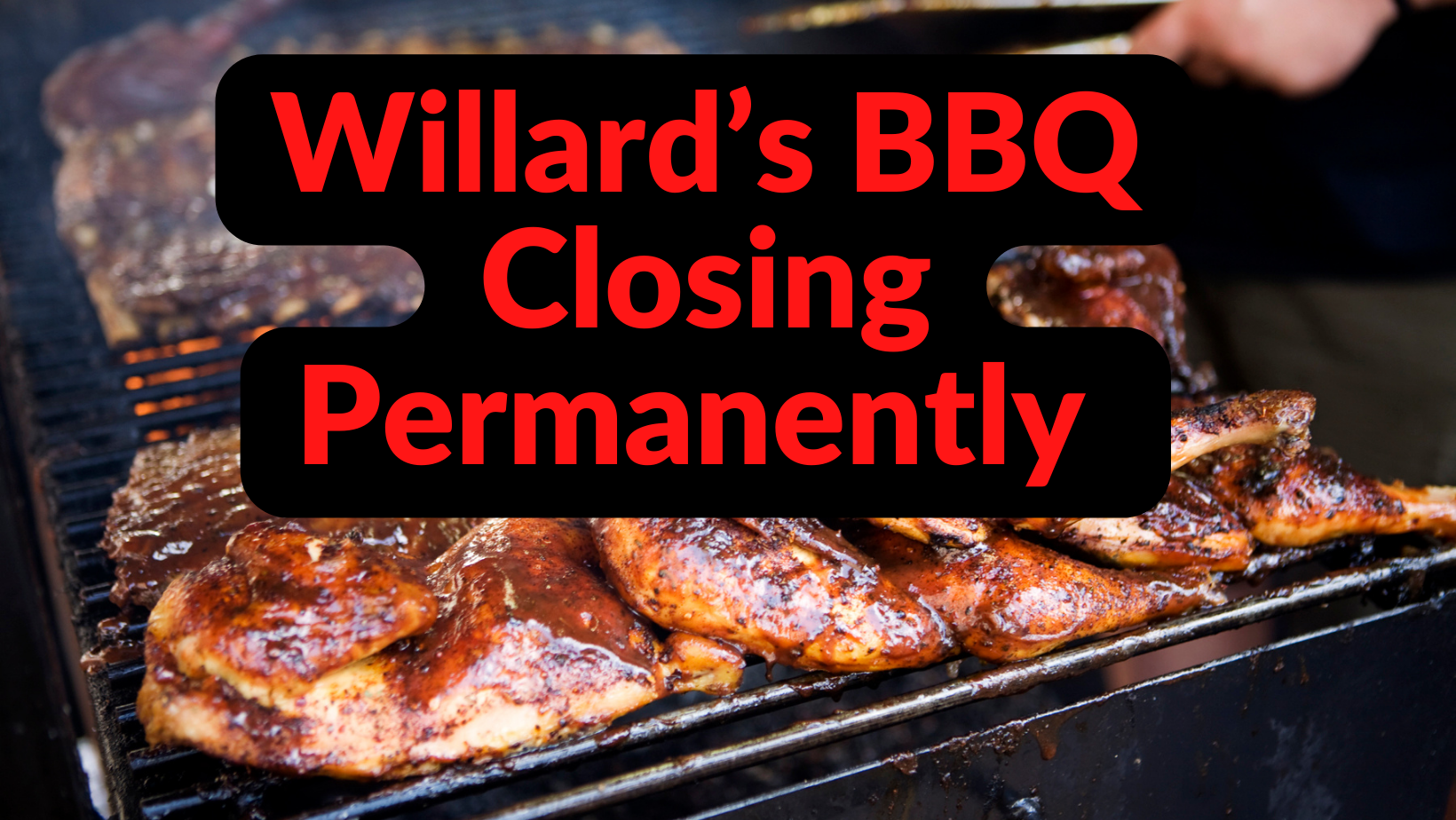 Photo: Canva- Brad 991WQIK 7pm to 9pm every week night.
Check out what the family had to say in there Facebook post on the closing. They have done so much for the community.
Facebook post:
Hello guys
I'm heartbroken in saying Willard's BBQ will be closing permanently Friday February 25th at 2:00 pm.
After being open for 31 years, we have had several locations over the years and have gained a huge family that started out as customers.
We cherish the relationship with everyone of you amazing folks and will miss you terribly.
I've been doing Que for over 40 years and my goodness how things have changed since then.
We opened the first Willard's in Callahan Florida (December 7th Pearl Harbor Day) 1991
and went on to open or franchise over 20 stores from Ellijay Ga to st Mary's Ga to several locations in Florida.
A lot of you remember the little drive through on Beach Blvd we opened in 93.
The thought of closing has our hearts aching pretty bad but it's time y'all.
Renee and I are not afraid of work as most of you know, but when the fun and drive is gone sometimes it's just best to leave on a high note.
Renee and I were working open to
Close with Just she and I in the kitchen for over a year and that's not the first time but this time there's just no end in sight.
As business owners I've always put all I have into my businesses and never had a problem doing that as it's what I loved and I've made a great living doing it.
Since Covid changed everything getting product has become almost impossible, along with the high cost of what does come in and labor rising it's just not how it's supposed to be.
As most of you know I had a minor accident and broke both clavicles and tore both rotator cuffs along with some broken ribs, well I planned on coming back to work the next day but Renee and the other awesome girls said they would walk out if I attempted to try to work and they were serious and I know it was because they cared.
So I've been out since September 20 my birthday of course, so Renee has been killing herself doing this with our son James and another guy Billy since then, we should have 5 individuals on the kitchen schedule.
Renee has done one heck of a job keeping things going for these 5 months I haven't been there.
I help as much as i can but Renee watches me like a dang hawk so I have to be careful what I do lol but I try.
James McQuaide has been a huge help to his Mom in helping do whatever is needed to get the food out done thank you James I love you son and I truly appreciate you
Tonya Ann Bentley has been at the San Juan location since we opened almost 9 years ago.
She also worked with me at Willard's in Callahan in the early 90's I love this young lady and appreciate her as a teammate and special friend I love you Tonya thank you for your loyalty over the many years
Molly Gordon has been with us almost 2 years and man she is amazing, always willing and ready to jump in and help wherever needed.
She really is an amazing person and a lifelong friend.
I love you Molly thank you for everything
Audrey Collins is a lil thang but she is a workhorse as she stays busy and helps wherever needed and always has that beautiful smile on her face.
We've always appreciated this young lady and will always cherish her friendship.
Thank you Audrey I love you and thank
You for everything.
Janin Boustanji you came in and would always feel bad for Renee and I when you seen us running tickets keeping dishes caught up snd running around like chickens with their heads cut off, so you'd jump back there in between taking care of your customers and do as many dishes as you could until it was time to jump back out front and I tell you it was so appreciated.
You've learned a lot and I'm so proud of you, you've become a special friend.
I love you and thank you for everything .
Renee you have been with me through 21 years of the BBQ business and man how you jumped in from day one and just kicked butt!
We've been through some of the best times while slinging Que, we would get so aggravated with each other and say some mean things to each other during the crazy lunch or dinner rushes but as soon as we
Knocked those tickets out we would high five and never mention the tempered moments.
I couldn't imagine going through these last 21 years with anyone but you.
You're my best friend and biggest supporter and I sure do love and appreciate you more than you could ever imagine. I love you and appreciate everything you do, Done and continue to do
We've had many great crew members that haven't worked with us for a while we've considered family and I'm pretty sure they know who they are, just to name a few Sydney Harig our beautiful daughter, Taylor Taylor Morgan McQuaide DIL Steven Willard son Ashley Raulerson DIL
April McLeod , Janie Wilson Grubb Rebecca Wilson thank you guys we appreciate you for everything, we wish only great things for you. I love each one of you
We consider most of our customers family and it will be an emotional day when we have to say our final goodbyes as far as the restaurant goes but our friendship will definitely continue.
Thank you to all our first responders that thank us on a daily basis for what we do but we don't see it that way as you guys put it on the line every day for us and that could never be more appreciated, a lot of you folks are some of my dearest friends and We love you guys more than we can express
This is definitely not a farewell to you guys we are setting up a catering area so we can still drive things to show our appreciation and support for you amazing men and women.
This definitely includes our awesome 911 operators, you guys rock and are often overlooked but any officer or fireman will tell you they couldn't do their job without you guys so much love to you guys
What about all pointing pics guys wow thank each and everyone of you that came up to get a pic with me as I was honored to do each and every one me of them.
We have judges, Congressmen and women,State representatives, to most of the first responders in duval and Clay, Nassau as well as some great friends.
I will keep these pics forever as they've been a part of my journey.
As I mentioned we will be closing February 25th at 2:00 at which time I will slice the last meal at Willard's BBQ for one of the greatest guys I know and love Steve Zona I
Will slice probably Brisket lunch and Renee will complete it with probably double Cabbage and a piece of garlic bread. We appreciate you Steve love you and your amazing family
I wish I could say thank you to
All you special people but this post is probably too long already but I truly believe you know who you are
We are going through the selling process right now but either way if we sell or it doesn't go through the last day stays the same.
Please keep my Que family in mind for those caterings, Terry Rountree at Tremendous BBQ
Keith Monroe Waller at Monroe's Smokehouse
Gary Lee Park Jr G's BBQ Shane Burndt at Burndt ends.
God Bless and please understand I can't answer questions but wanted to
Let you guys know what was going on rather than finding out when we close the doors.
I am a Blessed man to have met all you great people and I'll still be around doing events.
I have partnered up with one of my best buddys of 36 years With his amazing Roofing company BCR Inc Roofing, no not actually doing the roofing but getting the jobs to let our guys do the amazing work.
Thank you guys for an amazing 31 years
I love you all!